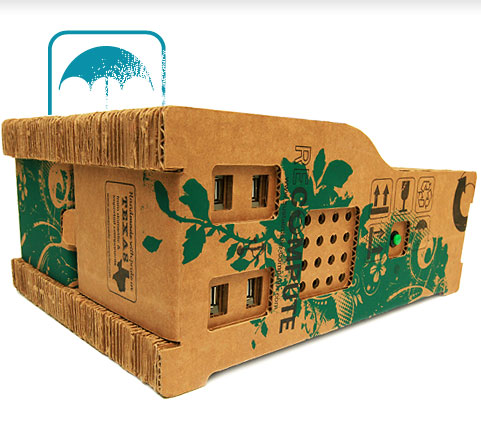 Understanding Sustainability and Product Life Cycle
Philosophy
Recompute is a new way of thinking about computers that is called Full Life Cycle Design, that layers sustainable ideas throughout its life cycle to make a lower impact product that can be easily replicated. Its design evolved from several months of research in attempting to define the question "what is sustainability in design?" The research lead to a methodology called Full Life Cycle Design which is the framework of how Recompute was developed. Recompute address sustainability along three main Life Cycle stages.
Manufacturing:
More than it seems...Rather than making a large tower constructed from numerous materials (ABS plastic, aluminum, steel, etc. ), hundreds of manufacturing processes and dozens of individual components, the Recompute case is made of corrugated cardboard(recyclable and renewable). There are five low-impact manufacturing processes to assemble Recompute: Die cutting, gluing (with non-toxic white glue), treating with non-toxic flame retardant, printing and electronic assembly. Recompute only used three major electronic components: A motherboard with processor and memory, power supply and a hard drive -- thus keeping electronic components to a bare minimum.
Use:
Seemingly never enough...Recompute is designed to allow the user to take advantage of existing hardware. For example, many of us have a good keyboard from a previous computer, or we use a portable hard drive that goes between work and home. For additional flexibility, external hardware customization is easy via 8 USB ports. People use USB ports like electrical outlets in a room, whatever device is needed is simply plugged in. This allows the user to add or subtract hardware as it is needed as well as allowing the use of hardware on other machines.
Disposal:
Think cases are not a problem? Think again... Dead electronic components (ewaste) need to be properly recycled as they contain toxic heavy metals. However, this is often skipped because dismantling of computers is difficult, time consuming and not cost effective. When electronic components are not dismantled, they are often thrown into landfills or shipped off to other countries to be burned where pollution becomes an issue. Recompute can be quickly and easily disassembled without tools so the electronics and case can be easily recycled individually. Once a Recompute is dismantled the components can be recycled safely right here in the U.S., by companies such as Creative Recycling. Our goal is to change how we deal with our dead computers and hope that others will follow our lead.