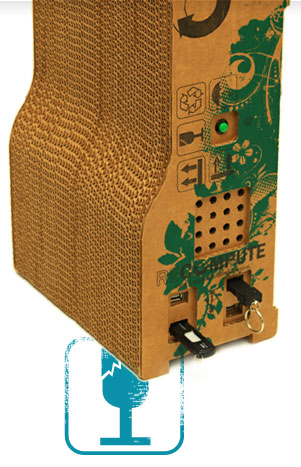 What is the meaning of life? We're not sure. Yet.
But here are some commonly asked questions.
F.A.Q.
Top 10 FAQ'S
Q: How much does it cost?

Our 2011 model starts at $599.95 USD and depending on options, up to $999.95. Try Recompute for fourteen days. If you are not satisfied, send it back for a full refund. If you choose to keep it, you are covered by a one-year warranty. See our Buy Now page for additional information.

Q: I am a student/educator! Are there any deals or discounts for me?

Please see our educators page for additional info..

Q: How do I buy a Recompute?

Right now, Recompute can be purchased directly from our website. Go to the Buy Now page to start configuring your machine!

For business, government, educational, or multiple unit orders, please contact us directly at info@recomputepc.com.

Recompute is also sold through Amazon.com. In the future, keep an eye out for Recompute in retail stores near you.

Q: Recompute looks cool and all, but I'm concerned about the cardboard case. Surely it can't be very sturdy and will wear out in no

Cardboard is an amazing material and is incredibly strong when configured correctly. The Recompute case is quite tough and functions like battle armor for the delicate internal electronics. To date we have put over 800 lbs (363 kg) on a Recompute case with no problems.

Q: Won't cardboard catch fire or overheat the circuits?

The design of the Recompute case takes advantage of the fluting (aka the slots in the cardboard) to work as natural ventilation for the machine. In a traditional computer case, the ventilation is often limited to a small port and fan in the back of the machine. As the computer heats up, the hot air collects inside the case. It then must be forced out with a fan to make room for fresh cooler air. This system of cooling is inefficient, and cooling fans have to work extra hard, creating excessive noise. The case of Recompute is similar to that of a honeycomb. Cool air easily flows in and hot air quickly radiates out with minimal load to the system fans. During our long-duration stress testing, where we ran the computer at 100% load twenty-four hours a day, seven days a week, the maximum heat measured from a single part was (155 F/68C), cooler than a fresh cup of coffee which is about 200 degrees Fahrenheit or 93 degrees Celsius.

The ignition point of cardboard is very high, higher than most of the plastics used in traditional computer hardware design. Recompute cases have been tested safe to over 400F/200C. Most of us don't think anything of putting a cardboard pizza box in the oven, or boiling hot coffee in a paper cup, yet the internal components never reach a temperature higher than an oven or boiling liquid. Still, as a safety precaution, each Recompute case is thoroughly treated with a non-toxic UL-tested flame retardant made by our friends at Flame Seal, who also supply flame retardants to NASA.

Q: What happens if my Recompute gets wet?

Well, we hope that you are not using your Recompute outside in the rain, or beside a swimming pool. Nevertheless, Recomputes are made using cardboard with a waterproof adhesive. Assuming that you didn't spill your coffee down all over the circuit boards, if the case gets wet, simply let it dry out and it should be fine. In fact, the cases get completely soaked when we treat them with the non-toxic flame retardant. We give them twenty-four hours to dry and they are good to go!

Q: How does Recompute perform versus other computers?

Recompute is a full functioning desktop workstation, whose performance is on par with any of the big brands. Recomputes will run Windows 7 or Linux OS like a champ. Please see our Say Hello page for our tech specs and additional information.

Q: Can I buy a Mac version?

No, Macintosh is proprietary software system and will only run on an Apple computer. However, if you are tired of the issues that surround Windows, and don't want to pay the inflated prices for an Apple product, we suggest making the switch to Linux. Linux works and looks similar to Windows or a Mac. It is not a pure DOS type system where you have to type commands (a common misconception about Linux). Linux is stable, secure, and best of all, free! See our Linux page for more information.

Q: Do you offer a monitor, laptop, full ATX or ITX versions?

At this time, we are only offering the original desktop Recompute. Hopefully in the near future we can offer some other products that uphold the sustainability banner just like the original Recompute.

Q: What is Linux and why should I care?

Please see our Linux page for more information.
FAQ Categories:
Design questions?
Project origins, Design considerations, or simply "why is Recompute__________?"
Let us explain why we did what we did.
Sustainability / Green questions?
Understanding Sustainability and Full Life Cycle design...
Technical questions?
Different models, Hardware specs, Software, Compatibility
Ordering / purchasing questions?
Shipping, Payment, Customization, Institutional, Retailer inquires, Where to buy, or the High School Builder Program
Support Questions?
Anything pertaining to warranty issues or service with your Recompute.
Miscellaneous Questions?
Think you questions is kind of weird or none of the above categories seem to fit the bill? Then it is probably here...
---
Can't find an answer here? Try our Community Support or Contact pages.